With a setting like this, you can't just enjoy it from afar. Because it begs you to come out and play. Explore. And discover something new. Within easy reach of every neighborhood, The Canyons community is located along trails and open space that encourage a connection with nature.
The Canyons Metro District Map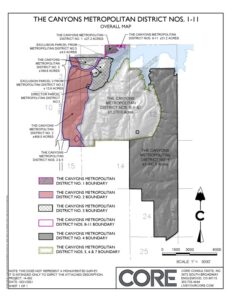 Why Neighbors Love The Canyons
Friendly community, Shopping, Family-friendly, Dog-friendly, and Peaceful location
Reviews on Nextdoor
Pursuant to section §32-1-809, Colorado Revised Statutes, Transparency Notices must be provided annually to the eligible electors of the district no later than January 15 of each year.